I've never been big on tedious or repetitive tasks. So it is kind of fitting that the first thing one has to do once getting their kit is to go through and inventory basically everything; down to the bolts and washers. It would be a little more palatable if things like bolts didn't come in a mixed bag so you have to sort them out and then figure out which part number is which bolt and so on. My first approach was... pretty haphazard. I would dump out a bag on my desk, match up how many I had with numbers on the sheet, and then put them back into the bag and go on to the next one. This took a few hours but now all these bolts and things are back in jumbled messes of bags somewhere and finding what I need during the build would just be... agony.
So I was on Mastodon, whinging about the whole process because counting is too hard for my smooth brain when a nice fellow popped in and showed me what he did:
Dean had shown me the light via his experience and I had to have those containers. So that very night I drove over to Harbor Freight and bought two of the exact same container stacks and a micrometer (since mine had mysteriously gone missing). Then I sat down and started sorting.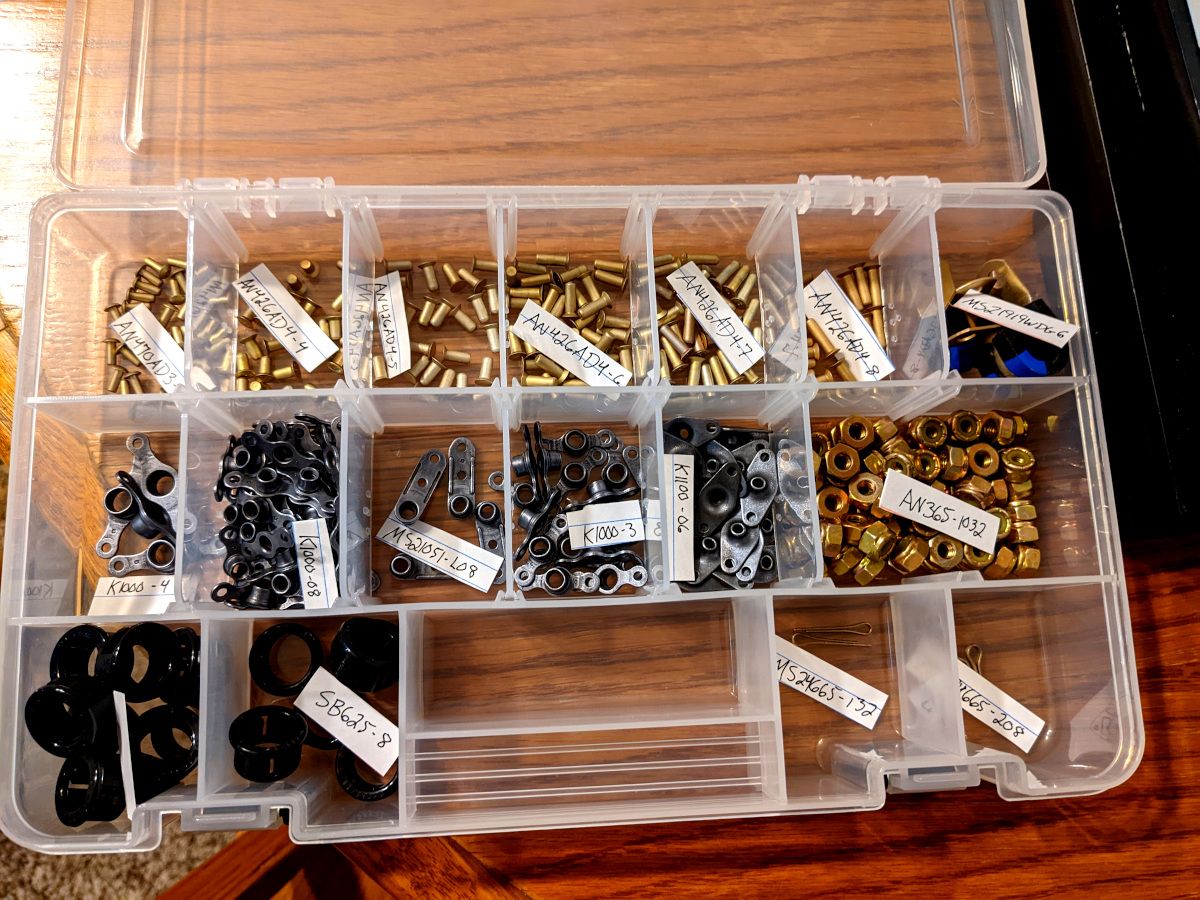 The work was still tedious but way more satisfying as I could see progress. I know where everything is and it gave me a good opportunity to check my counts again. Great props to Vans, only 2-3 things are missing and they are washers or cotter pins. Very high accuracy and easy to source parts (although if I notify them they'll send me the parts). I probably should have bought a label maker but I survived just as well without it. Next time I do this, I will be getting one though. It was mind numbing to go back through everything but putting on some music and just zoning out at 3:00am when I couldn't sleep saw me through it.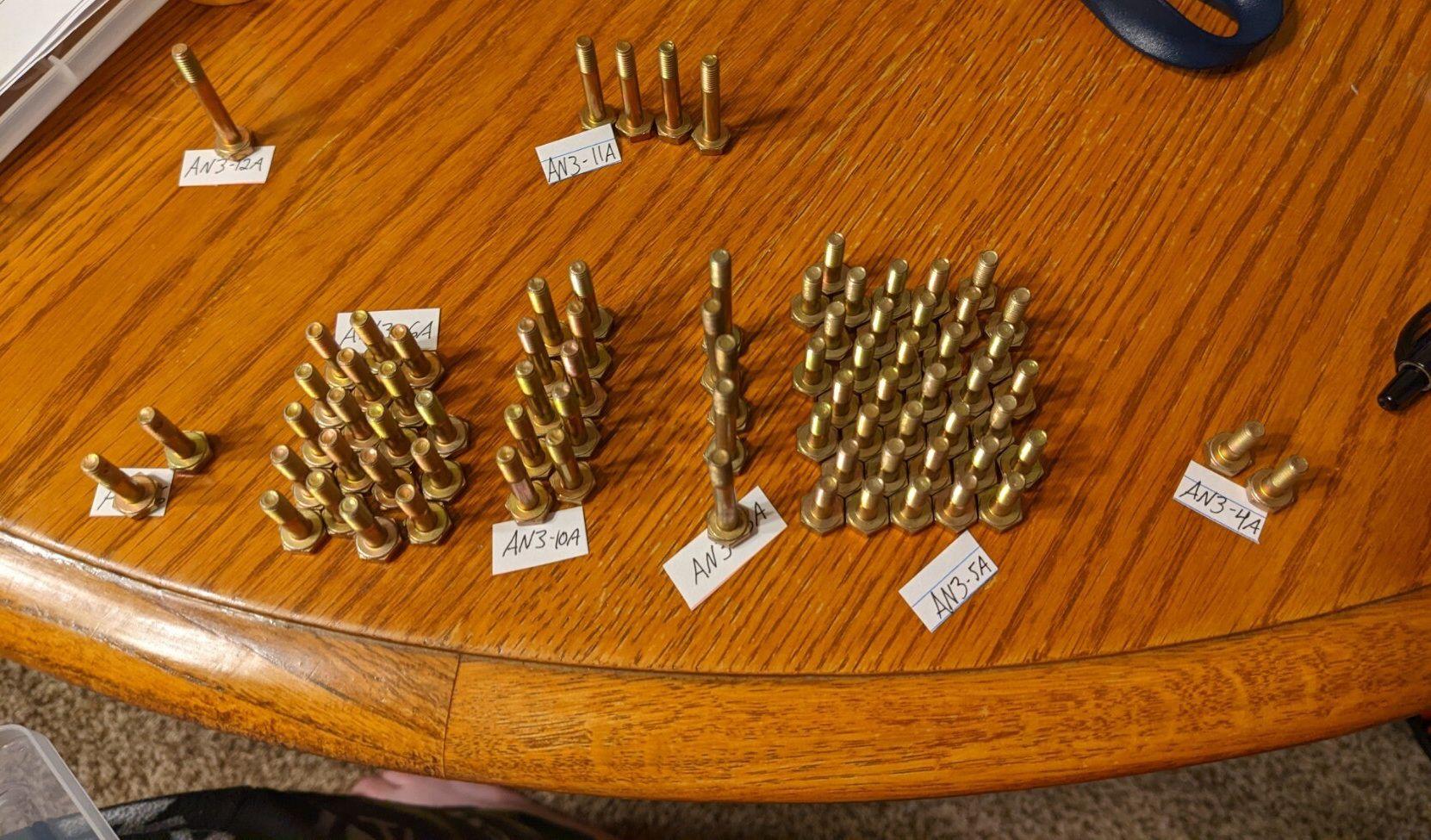 Adding to the madness is that I have a one year old that is quite tall for his age. He loves to run around and create general chaos in every part of the house. Since it is November (and late November at that) in Wisconsin, it is too cold in my garage for me to want to count a bunch of bolts out there. This means I reasonably can only do this when my son is sleeping so there isn't a ton of opportunity overall. I was blessed with not being able to sleep at the same time though, so early morning fun it was.
So after three days of this fun, I was finally finished. I now have all the small hardware sorted and organized for the empennage kit. Oh yes, there will be this whole dance three more times during this project but I have picked up some tricks and made some notes on how to streamline this whole process a bit. Meanwhile I'll just daydream that Vans will get a machine to do this and send stuff sorted a little better.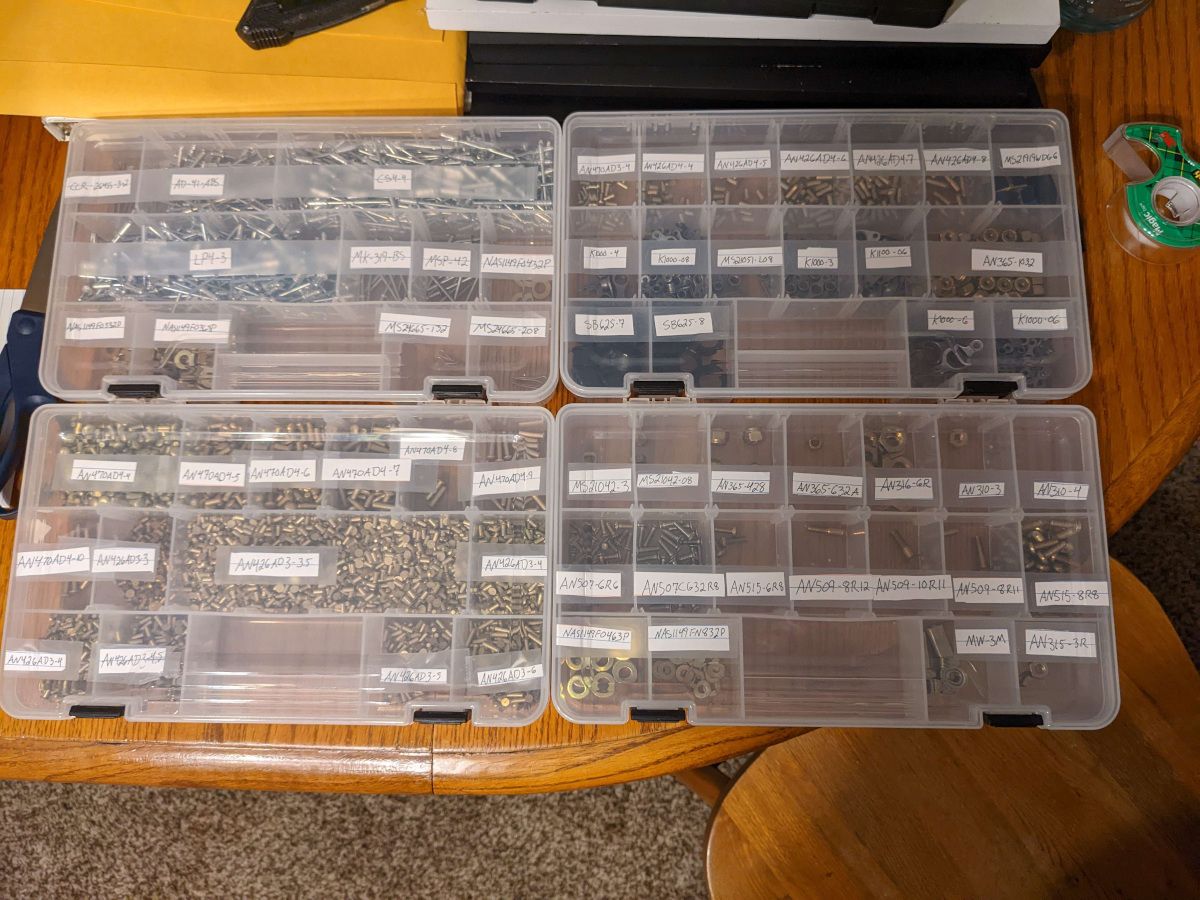 In total, I filled six of these containers solidly. It is going to be so very amazing when I can just get what I need quickly and I am glad I spent this initial time to get things organized well. My other tools are a bit of a jumble though, so I could probably do with organizing my rivet dies and so on to make sure stuff doesn't get lost in the shuffle. I got a large binder for the plans as well, because I'm sure they'd love to fall on the floor and just scatter into a big mess.
In order to protect the plane parts from the chaos that is my child, I will probably convert part of my basement into a winter workshop. This does, unfortunately, mean that I won't be starting to put stuff together quite yet, but this is an investment in my sanity (and staying warm). With this nice four-day weekend (Thanksgiving here in the United States) I hope to carve out some time to clear space and move some workbenches around. With luck, I'll be starting in earnest shortly after that.